In China, it's said that Beijing is the best destination for sight-seeing while Shanghai is best for eating. Since I build my agenda around my appetite, Shanghai has been the perfect home base for me over the past several months. This modern metropolis lives up to its reputation as a culinary hotspot, with access to cuisines from all over China and much of the world abroad.
After sampling fare from Shanghai's copious restaurants and street vendors, I set out on an Epicuring style quest to learn about as many of these creations as I could. Two of the local cooking schools have helped me along the way. If you're lucky enough to make your way to Shanghai, do yourself a favor and add them to your itinerary.
Tucked in a charming area of Shanghai's French Concession (a formerly French neighborhood that still feels quaintly European) this cooking school's primary location offers classes every day with an ever-changing variety of recipes.
Chef Mike, a Shanghai native who is fluent in English, helps students whip up sophisticated versions of popular dishes. Okay, I'll admit that in my pursuit of the exotic I expected some of the more familiar recipes like Hot and Sour Soup to be a bit of a yawn. I was so wrong. With a focus on achieving the perfect balance of flavors and textures, the chef proves that good technique goes a long way in taking these classics to new heights.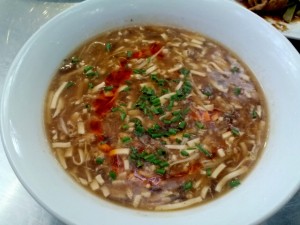 Making buns, dumplings, and other bite-sized treats with the school's dim sum expert is equally rewarding. After mixing dough from scratch, rolling it into thin wrappers, and forcing my clumsy fingers to perform the precise folding techniques, I think to myself, "Shouldn't vendors be charging more for these things?" All the students giggle at their first bedraggled attempts, which look more like wads of crumpled paper than delicately folded buns. With help from the instructor, we eventually get the hang of it.
This relatively new cooking school (open for just over a year) emphasizes casual, home-style cooking. The founder, Helen, explained that she wants her students to feel like they are cooking at a friend's house. Accordingly, many classes are held in her home kitchen and include a casual chat over tea.
C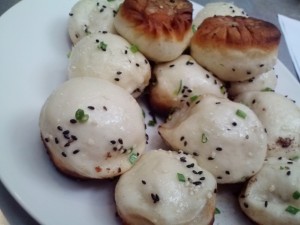 lasses kick off with an optional trip to the local wet market, a traditional marketplace with vendors selling live fish and frogs, cuts of meat from cow tails to pig ears, local vegetables, and dry goods. If there's no threat of a bird flu epidemic when you visit, live chickens will also be butchered on site (I was not so, uh, lucky). Students get a guided tour of the market and help choose the ingredients that will be used in the cooking class.
For the special La Mian (hand-pulled noodle) lessons, a noodle chef joins the team to lend his expertise. During his first demonstration, the chef deftly twists and stretches a ball of dough into long noodles of various shapes and thicknesses. At this speed it looks like magic and I worry that my own pile of dough will end up looking more like a giant pretzel. After a couple more demonstrations in slow motion, however, my first attempt somehow results in beautiful strands of fresh, tender noodles.
Someone call Martin Yan – I expect he'll want to offer me a job when I return to the Bay Area.