Hunger is no joke and neither is the tens of thousands of dollars Ghirardelli Chocolate and its partners raise annually to help Project Open Hand prepare and deliver thousands of meals and hundreds of grocery bags daily to San Francisco's food-challenged.
The Ghirardelli Chocolate Festival is your chance to do good while indulging!
From sundaes to chocolate cocktails, the 2013 Chocolate Festival is affordable for families and friends – a mere $20 (or $25 at the door).
Tickets include 15 tastes, from Ghirardelli (including mini sundaes !) and a bevy of amazing Bay Area chefs and vendors.
NEW in 2013: Chocolate & Wine Pavilion: Sip and savor premium samples from local wineries and gourmet dessert vendors in the heart of the Ghirardelli Chocolate Festival. This new and exclusive area of the event will require an additional "Pavilion" ticket good for 20 gourmet tastings. Only open for Festival guests 21 years and older.
"Earthquake" Sundae Ice Cream Eating Contest: A Ghirardelli Chocolate Festival Tradition! Festival attendees compete or just witness the hilarity as six lucky people eat the famous Ghirardelli "Earthquake" Sundae as fast as they can without hands. Battling each other and their own stomachs, competitors are sure to make this experience a memorable (and delicious) one. Children also compete with a smaller version of the famous Earthquake Sundae. There are three competitions on both Saturday and Sunday.
Chocolate School- "From Cocoa Bean to Chocolate Bar": Ghirardelli's "Chocolate Professor", Steve Genzoli teaches "Chocolate School" and takes audience members through a tour of the chocolate making process. Learn every step a bean takes to become a chocolate bar from Steve, who is Ghirardelli's real life VP of Research & Development and Quality Assurance.
Chef Demonstrations: Local culinary professionals including Tim Nugent, "Top Chef: Just Desserts" participant, work their delicious magic on both Saturday and Sunday at one of two Culinary Stages at the Festival. Be engaged in all things chocolate and learn the inside scoop on many delectable delights. Learning has never tasted so good!
Silent Auction to benefit Project Open Hand: First started in 2012, the auction proved to be a success with the Festival guest and raised additional funds for Project Open Hand. In 2013 the goal is to double the quantity of premium offerings from restaurants, hotels, the travel industry and vendors.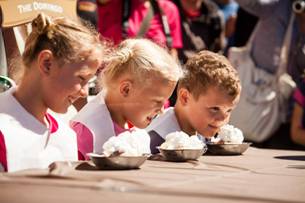 It's easy to get there:  Drive or BART and take the historic F Train. From Pier 39 there's a free shuttle, outfitted with free preview chocolate, runs to Ghirardelli Square
About the Ice Cream Sundae You'll* Never Forget (*and / or your kids)
I can only guess why Ghirardelli Chocolate named their "eight scoops of ice cream, eight delicious toppings, fresh bananas, whipped cream, chopped almonds, decadent chocolate chips, and cherries" sundae extravaganza the "Earthquake." Surely tremors  go through your body before eating it, after shocks of pleasure and sugar after as the sundae courses through your system, and the prospect of damage (and whipped cream covered faces) that can happen when you let a family loose on one plate full of gooey melty goodness.
Hey, you can eat a pint at home or eat a memory at a San Francisco institution. In fact, the folks at Ghirardelli hear stories all the time from families who have made this collective indulgence a family tradition (if only for the photos!)
Factoid: Did you know Ghirardelli Chocolate is made right near the Oakland Airport?
Ghirardelli Chocolate has really grown since Swiss company Lindt & Sprüngli bought the company in 1998; so I was thrilled to learn the company's Bay Area roots continue to be firmly entrenched.In the town of San Leandro, just south of Oakland, Ghirardelli continues to manufacture its chocolate at its one and only factory. (And for those who have the chocolate religion and love fun on the job will find bountiful careers in chocolate at HQ and in the stores.) You can stop by the company outlet store and picked up some great discounts on chocolate chips.
Just can't make it to the Square? Their store at the historic Palace Hotel is a nice BART-friendly alternative where you can have that sundae experience. And I was excited to learn the stores make the hot fudge onsite daily.