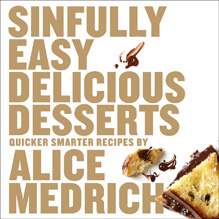 by Susie Wyshak, Epicuring
Alice Medrich made a tall promise to our class at cooking school Paulding & Company in Emeryville, which teaches adults and kids through summer camps as well as doubling as a cooking school filming location (as seen in Hereafter) and training ground including animators for the Pixar movie Ratatouille.
To demonstrate the promise of her new book, Alice announced she would make 4 desserts in 2 hours and leave room for conversation.
As we tasted desserts, sipped Perrier and coffee, and he not only finished with time to spare but turned out some really unique twists on classic recipes that make her new book Sinfully Easy Delicious Desserts an intriguing find , even for the cookbook-overloaded dessert fiend.
Chocolate Mousse
Tips: Underbeat whipped cream as it will keep "whipping" even after you stop. Pouring hot water over the chocolate eliminates the need to melt the chocolate!

Gingerbread
Tip: Zest lime or sprinkle spice on top of the sour cream or whipped cream topping instead of mixing it in.
Blueberry Tart
Tip: Melt the butter for the pate brise crust — simple, no crumble to mix! So tender and flaky too. In a bit of genius, Alice used half cooked down blueberries and half fresh. Pop!

Middle Eastern Oranges
By the time we got to this dish, I was in a coma so I think the name is wrong, but the students went wild over this simple recipe, made with fresh fruit, dates, almonds, orange flower water, and a bit of ice cream. Nice and simple. And Alice in her cute way enthused at how the recipe includes all sorts of textures from chewy, melty, crunchy etc.
The class benefited the Berkeley Public Library, was a great size, and had a casual and convivial feeling that made everyone feel at home and feel delightfully full — and fulfilled.