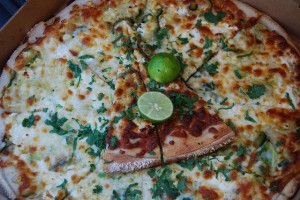 Somehow the holidays passed by with no R&R in sight. So I decided to indulge with an afternoon off near Lake Merritt on a Friday afternoon. The streets bustled, I guess with likeminded folks enjoying this mid-week New Years.
Here's how I spent a 6-hour leisurely afternoon in the corridor that bustles between Mandana at Lakeshore horse shoeing over to Mandana at Grand Avenue.
First take my "pro parking tip" and see if you can get an all-day parking spot by Walgreens and Trader Joe's just where 580 dumps off at the Lakeshore exit. I kind of feel bad letting the secret out as it's probably good employee parking, but hey, all day parking is all day parking!
Lunch at Arizmendi Bakery included a slice of pizza and my very first soup at one of the best pizza joints in town. It was a Thai vegetable coconut soup type thing along with a thick slab of French bread. 16 ounces for $4. Followed by a small coffee for $1. Hit the spot.
Matinee at the Grand Lake Theater for $7.
Great, affordable beer on tap at Boot & Shoe Service where realistically you might want to stick around for more drinks and dinner. My Moonshine brew was $6. LOVE their rollicking music and warm buzz of happy patrons.
All along Grand and Lakeshore are lots of independent boutiques, bars, and cafes. This little itinerary would be made all the better on a Saturday after the farmers' market.
Happy new year! I'm sure happy.